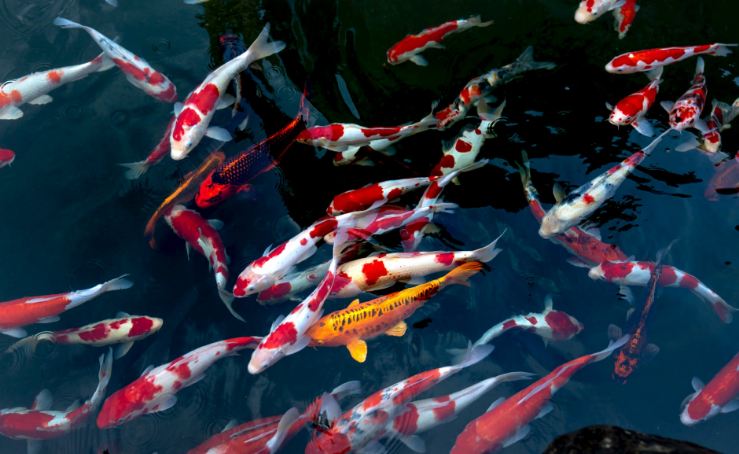 In recent years, one of the most common backyard design ideas has been adding a fishpond to the yard. Now this can usually only be accomplished in those yards that are large and sprawling and that have some sort of walkway.
However, if you are really adamant about having your own fishpond, yet you have a small yard, there are a few design ideas that you can incorporate to hopefully add it in without having it dominate your yard.
One suggestion would be to incorporate a very small pond either right in the middle of the yard, so it can serve as a focal point, or over in the corner of the yard, so it seems like a surprise to people who are walking around.
In the corner design idea, you would want to raise the pond a little bit so the fish are out of view. In the center-yard design idea, you can incorporate the fishpond at ground level or a little above, whichever you prefer.
In all of these ideas the main focus is to include something lively and colorful in your yard that you can watch peacefully swimming around every day.
But keep in mind that large fish, such as the Japanese Koi that often populate fishponds these days, can be extremely expensive.
Of course, you can also purchase cheaper goldfish from a pet store, but you might not be guaranteed their longevity in an outdoor pond.
You just need to weigh how much you really want the fishpond and how important it is in your overall backyard's design before you go ahead and start building it.
You might find that you would rather have a small, more manageable tank in your home that you can check on each day.
Another consideration before incorporating a fishpond as a backyard design is the climate of your location.
Most would only add a fish pond if they had access to warm weather all year round, and there really aren't many places that can accommodate that.
If you are really sure that you want this type of backyard design, you can always have an indoor tank and an outdoor pond and transfer the fish when the weather allows.
Having a fishpond is a testament about how much time and energy you are willing to devote to this aspect of your backyard. In effect, it's a great idea that is just difficult to bring to fruition.
However, with a lot of work, you can bring it to life, and many people are impressed when they find that their friends have a fishpond in their yard. It brings an instant luxurious feeling to the yard and makes others feel like they are in the presence of royalty.
You must also consider the surroundings when you are getting ready to incorporate the design of a fishpond into your yard. Indeed, if the surroundings look bad then you cannot hope to have the yard fit together.
With something as affluent as a fishpond in your yard, you need to make sure that the surrounding design is aligned with the pond. So include some luxurious hanging plants and some very nice flowering bushes.
This will generate an overall comforting and enchanting ambiance that anyone would be thrilled to have.
As with anything, if you are really motivated to get your fishpond to work in your yard, you can probably do it successfully. But remember; don't just dive in without consulting with family and friends and perhaps even some professionals before you begin.