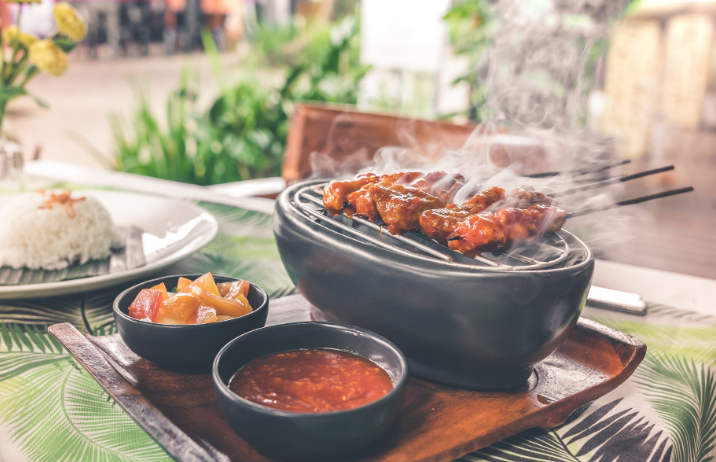 The kitchen is the heart of every home! Many of us spend most of our time in the kitchen. So why not liven up your kitchen interiors?
An attractive gourmet kitchen not only looks pretty but also reflects one's personal expressions, tastes, and attitude.
So, remodel your kitchen to make it beautiful, functionally more efficient, and visually comforting thus making your gourmet cooking experiences all the more exciting.
If you are planning a total kitchen remodel, it is advisable to seek the help of a professional space planner and a kitchen expert.
Besides viewing your kitchen solely as the primary place of preparing meals, also reconsider it in terms of function; as to how easy it is to work in proximity of the refrigerator, oven, microwave, and sink.
So, it is necessary to keep the basic kitchen equipment at strategic locations, close enough to each other yet adequately spaced. A counter kitchen top or counter table is an important aspect of a gourmet kitchen.
If you are a gourmet cook, you need to invest handsomely on your kitchen appliances. The kitchen appliances should be of the best quality as per your budget.
Go for the finest tools with sleeker designs, bright colors, and of course those that serve as an alternative to stainless steel appliances. Today's appliances are specially designed to use up the kitchen space effectively.
What have you thought about the flooring of your gourmet kitchen? Your flooring should be durable as well as attractive. Linoleum floor tiles would be a great idea. As far as colors are concerned you don't really have to be content with the dull and muffled colors.
You can choose from a large variety of colors and designs in kitchen floor tiles to suit your tastes and budget. You may be looking for bright and vibrant colors! No matter what color you choose, mix some neutral colors like gray and white along with it to give an interesting look to your gourmet kitchen floor.
The cabinets are the furniture in your kitchen. A gourmet kitchen needs decorative and attractive cabinets.
To change the feel of your kitchen cabinets, use antique and glazed finish material instead of using monotonous metal finishes. This will add a sense of heritage to your kitchen. Make sure your kitchen cabinets have a lot of space so that you can store your kitchen stuff in an organized manner.
Lighting plays an important role in your gourmet kitchen. The lights can be hidden or exposed but should provide enough illumination at your workspaces.
You can variously install recessed lighting, under cabinet lighting, or even use small lamps keeping in mind the brightness and sufficient visibility that is a must to work safely in the kitchen.
Make your kitchen unique and innovative by decorating it in a different way. Choose a warm color to paint your kitchen walls. You can go for brown shades, desert sands, or light shades of coffee.
Decorate with varieties of accessories to make your kitchen look interesting. Placing herbs like rosemary, basil, and thyme on the windows will make your kitchen more attractive.
Look for old copper pots and candle holders to get a warm country feeling. Last but not the least, a wine rack, stocked with wine, surrounded by wine glasses will enhance the beauty of your gourmet kitchen.
A kitchen bears the stamp of your personality. So, decorate your kitchen according to your personal taste. A little planning and research will create the gourmet kitchen of your dreams where you can enjoy the pleasures of stylish and exotic gourmet cooking!