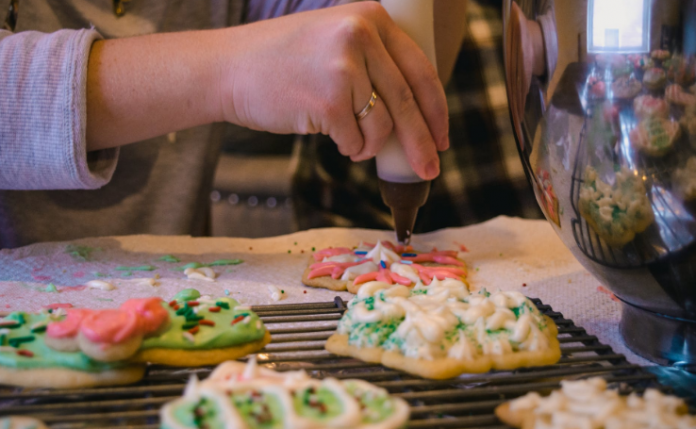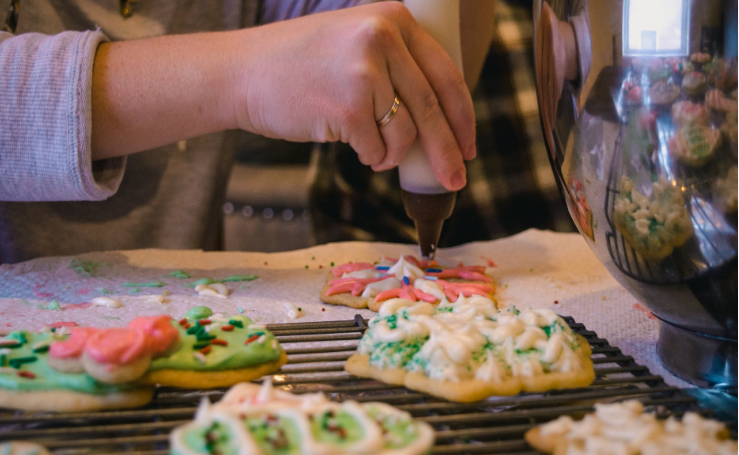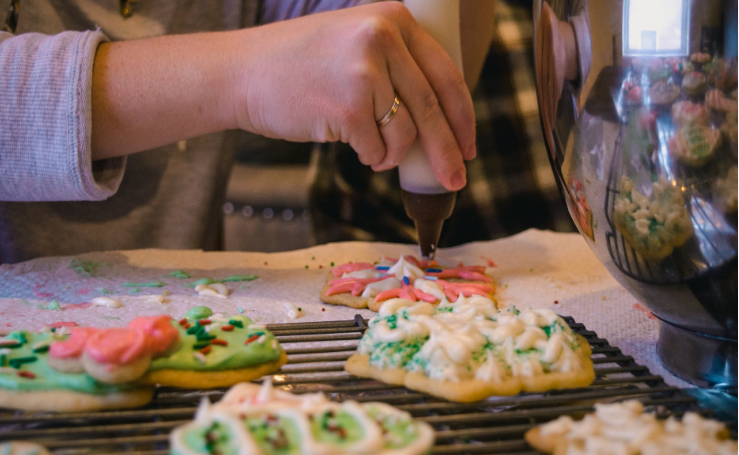 Cookies are delectable, crunchy, and an all-time favorite snack item. And when Christmas is near you are surely gearing up to bake some yummy and delicious cookie treats for the young and the old!
Celebrate this holiday and festive spirit by baking some of the most scrumptious Christmas cookies for your loved ones!
Christmas cookies come in a variety of fun and interesting shapes and sizes offering myriad variations including round cookies, star-shaped cookies, doughnut-shaped, stick-shaped and the options are endless.
You can even bake cookies in the shape of a Christmas tree depending on your cookie baking expertise!
Tips To Bake The Perfect Christmas Cookies
– If you want your Christmas cookies softly baked and not crunchy then you must avoid over-baking the cookies for a prolonged time in the oven.
Just when the cookies turn golden brown in color remove them from the hot cookie baking sheets immediately. This will prevent your cookies from becoming crunchier and keep them soft and chewy.

– To bake the most delicate and delicious Christmas cookies it's better to use unsalted butter in your cookie recipes.

– To avoid too much spreading or deformation of the cookies on the cookie sheet during baking make sure that you pre-check the following points before you start baking the cookies.
Always place the cookie dough on a cooled baking pan, do not over grease the baking pan, add enough flour, the cookie dough must be optimally chilled and use good quality butter/margarine.

– Make sure that you add all the essential cookie ingredients mainly the flour, salt, baking soda, and baking powder measuring each ingredient accurately.
Or else you can expect to mess up your Christmas cookies that might turn out to be too tough, dry, doughy, or heavy especially if the flour measurements are not perfect!

– While blending the flour and other dry ingredients with the liquid ingredients it's advisable to avoid too much stirring of the mixtures as this can turn the cookies too tough. Stir gently till all the ingredients just mix well.

– While rolling out the dough try to roll it as thin as possible so that you can bake crispier and crunchier cookies.

– While baking the cookies try and use light-colored, dull-finished, heavy-gauge, non-stick sheets that ensure uniform baking of your cookies.

– When you are making drop cookies make use of cookie scoops so that you get same sized cookies that can be baked evenly.
Two Favorite Christmas Cookie Recipes
Christmas cookie recipes are as diverse as the variety of goodies in Santa's kitty! Grab all those cookie recipe books or search the Internet for some exciting and delicious Christmas cookie recipes and start baking right away!
The following few cookie recipes are fun-to-make and simple that can be enjoyed at home or can be added in the Christmas gift basket around your Christmas tree!
Gingerbread Men: These all-time favorite Christmas cookies are fun to make.
You require 3/4th cup of light/dark brown sugar, 1 cup softened butter/margarine, 2 eggs, 1/4th cup molasses, 3 and 1/4th cup self-rising flour, 2-teaspoon ginger, and 1 teaspoon each of allspice, cinnamon, nutmeg, and salt. In a bowl mix sugar and butter and blend well.
Then add in the eggs, molasses, and remaining ingredients and mix well to form a dough. Then cover and chill the dough for 1 hour.
Next, dust some flour on your kitchen countertop/rolling board and roll the dough until it is 1/8th inch thick.
Then, cut into shapes and place each of them on a lightly greased cookie-baking sheet. Bake for 10 minutes in a pre-heated oven at 350 degrees.
Cool the cookies and decorate them with frosting if desired! Start devouring these delicious cookie delights right away!
Peanut Butter Chocolate Chip Cookies: You'll need
– cup each of softened butter, chunky, smooth peanut butter, granulated sugar, and firmly packed brown sugar.
Blend each of these ingredients well into a light and creamy consistency, and then add 1 egg and mix until fluffy!
Blend together 1 and 1/4th cup all-purpose flour, – teaspoon each of baking powder and baking soda along with 1/4th teaspoon salt.
Now add these dry mixtures of flour and baking soda+powder into the creamy butter and egg mixture. Next, add 1 cup chocolate chips. Mix well.
Now drop teaspoonfuls of cookie dough onto lightly greased cookie baking sheets. Bake the cookies in a pre-heated oven at 375 degrees for 10-12 minutes. Yummy and buttery choco cookies are ready to eat!
.