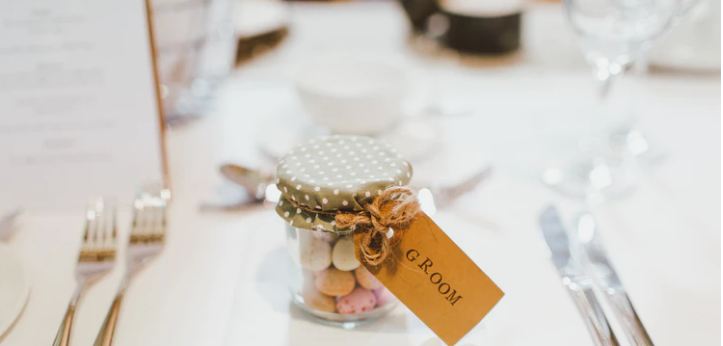 When planning out a fall wedding, keep in mind that the wedding favors need to reflect both the local customs and also the season.
Here are a few ideas to help you come up with imaginative and still appropriate wedding favors for your autumn nuptials.
When deciding what type of favors would adequately reflect your fall wedding, look around you for inspiration.
What does the fall bring in your part of the world?  Perhaps it is a time when state fairs and traveling carnivals make their way through your town.
If that is the case, you may want to draw on things to do with the circus as inspiration for your fall wedding favors.
Brightly dressed porcelain dolls, often a prize at a fair, maybe the ideal wedding favor. Perhaps stuffed animals, complete with copies of your wedding announcement nestled in their paw, would be appropriate.
If carnival food is what comes to mind, you may be able to find a local advertising shop that can supply you with miniature replicas of those two venerable sweets – elephant ears and funnel cakes – that could be inscribed with your names and the date of the wedding.
If the autumn for you means football season, then you no doubt can draw upon all sorts of keepsakes related to the favorite team of the bride and groom.
If it happens that the couple holds divided loyalties to the two main local rivals, then it may become necessary to mix the wedding favors so that both teams are represented.
The great thing is that there is no limit on the types of items you could purchase and have to inscribe for a very reasonable charge, with the team log emblazoned on one side and the wedding date and couple's names on the other.
The cooling of the weather also means that the wedding favor could also double as a keepsake that can be used in times to come.
Fall weddings may use something such as a mug that picks up the colors of the wedding and is personalized with the date and the shared name of the new couple.
This can even begin its life of use if the reception features some sort of warm cider or perhaps even hot chocolate as part of the festivities.
Perhaps you have something a little more formal in mind, but still, something that lends itself to autumn.
Brass and gold tend to be a little more formal, so you could think in terms of a small figurine, or even something along the lines of a goblet.
Small brass frames with a picture of the newly married couple may also be a nice wedding favor for the guest to take home with them. 
When deciding on wedding favors, the idea is to provide something that will be a lasting memento for everyone who attended.
Keeping the wedding favor in line with the season is a great way to reinforce that memory, and certainly drawing on elements that have local significance makes it even easier for people to remember the occasion of your wedding with fondness.
By taking all these concepts in mind when selecting your fall wedding favors, you are sure to come up with an idea that will be a winner.