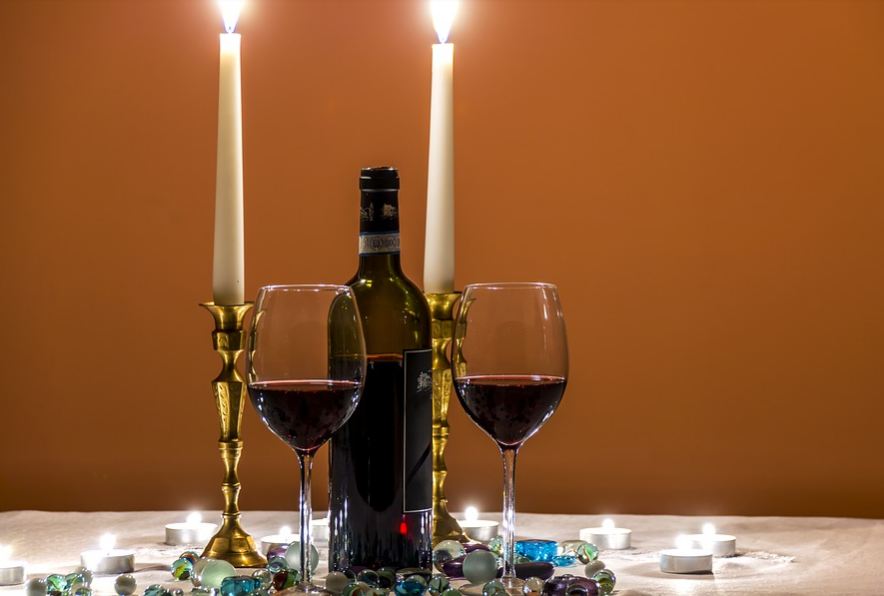 When the pursuits of the pragmatic aspects of life become tiresome beyond the level of tolerance, you have to plan something to spice the things up. Going for a candle lit dinner in an upmarket restaurant is a grand way of unwinding indeed.
But what is novel in heading toward a restaurant every time you want to spend time with each other? Why not this time make some arrangements for having a romantic evening right at your home?
And what can be the better way of spending the evening with your spouse than having an elegant candlelight dinner together? Getting nervous with the prospect of arranging the whole affair?
You better not, for here comes our guide to help you learn the simple steps for arranging the most romantic candlelight dinner at your home.
Planning is the key behind the success of every scheme. So spare some time to arrange for everything in advance.
First of all decide on the date. If you wish to surprise your spouse with the whole arrangement, then just casually ask him about the date he will be free enough to come back home early, without disclosing the reason for asking.
Also, make an arrangement with your boss to take an early leave that day. This concludes the most crucial part of your scheme, which curves out a time slot just for each other.
If you are a couple with kids, your next thinking relates to the stationing of the kids. If it is impossible to send them for a night to one of their granny's homes, then you do not need to scrap the project.
What you have to do is to go through pages of your community newspaper to find out the list of baby sitters and choose one that seems suitable to manage your kids properly while you are engaged in the romantic rendezvous.
It is crucial to the whole planning, as the screaming kids are the last thing you will like to have around while you two are busy trying to relive your days of early dating.
Now that the initial arrangements are over, take a piece of paper, write down the menu and the things you will need to create the ambiance. t the initial arrangements are over, take a piece of paper, write down the menu and the things you will need to create the ambiance. You will probably need an extra evening for shopping the required things.
For example you may need to buy a couple of new wine glass, may be you will also need to invest on new set of dishes and so on. Also include in your buying list one or two CDs of light instrumental music, preferably on violin.
Also buy some scented candles. Also never forget to choose the brand of wine that your loved one likes most.
If you want to recreate the ambiance of that of a sophisticated restaurant, you also have to hire a waiter for the night. If you can not afford one, then just hire a student and instruct him how to carry out the whole serving till dessert and it will prove to be a more affordable but efficient solution.
Now that the day has finally arrived invite your husband to a date. This you can escape if you do not have any doubt that he will come back early.
If you have any doubt, you should better persuade him to come back early, without disclosing the reason. Otherwise, your whole efforts may be wasted.
Before your hubby comes back home complete the other preparations, that is cooking the meal and setting the table. It is always advisable to cook delicious but simple dishes and that which can be left into the oven for quite some time in the oven.
If you plan to cook lobsters or crabs, then take additional efforts to shell them beforehand, otherwise, the things will turn messy. Team them up with unostentatious pasta or noodles and a basket full of fresh bread rolls.
Apart from using the best cutleries and silverware, also take the efforts to spread fine table cloth and never forget to provide some flower arrangement on the table. A single red rose will be perfectly in sink with the spirit of the whole evening.
Now that everything is in its place, you dress up elegantly, preferably in a piece which your hubby has a special penchant for or buy a new dress in the shades that he likes most.
Switch off your mobiles and remember to consciously avoid the topics like finance, kids or in-laws. A candlelight dinner is meant to evoke the lost emotions in your hearts, rekindle the fire that has lost in the labyrinth of family responsibilities.
So do not get distracted yourself and also prevent him from getting distracted from the theme of romance.
Now you are well prepared to have the most romantic evening with your spouse good luck and cheers.