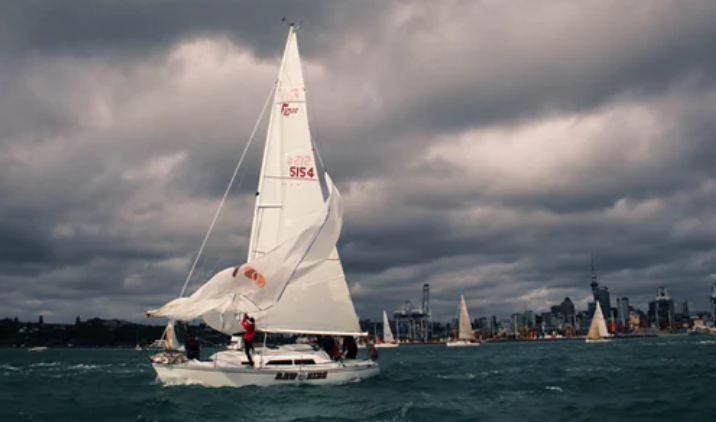 Vanguard Sailboats is one of the world's leading manufacturers of sailboats. Their list of elegant yet functional sailboats includes performance boats for racing and recreational boats for just having fun.
Additionally, their prices are reasonable and competitive, their quality top-notch, and the boats themselves some of the finest on the market today.

A perennial favorite for all families who enjoy the sailing experience is Vanguard's Nomad.
Besides excellent performance, the Nomad offers one distinct family-friendly advantage: it's large.
It can hold up to six people, two adults, and four kids, with plenty of storage (moms will like this feature) for any stuff they bring with them.
The boat sails well and handles beautifully, but it's also fun and comfortable. And, as if that wasn't enough, the Nomad is easy enough for a beginner to use. A fun introduction to sailing for the entire family!

Another popular Vanguard Sailboat – in fact, their website claims their most popular–is the Sunfish.
Good for either racing or recreation (their race-ready version is slightly more expensive than their recreational version), the Sunfish is tough.
It's built to take whatever abuse you throw at it, whether you're a beginner just starting to blunder around, or an expert demanding perfection.
Small enough to be handled by a single person, the sheer simplicity of the Sunfish is one of its best assets. It's easy to use, ideal for a quiet day out alone.
There are only two lines on the Sunfish (so no risk of getting yourself hopelessly tangled up!); of the two, the main-sheet is the only one you'll actually need to use in sailing.
The other, the main halyard, is used for setting up the sail and taking it down again, both of which are almost effortless.
Enjoyable for experts, but easy for beginners, it's no wonder the Sunfish is their best-selling model!

But what if you're looking for something more complicated? If you want more of a challenge than either the Nomad or the Sunfish provides, Vanguard has an entire line of sailboats just for you.
The company knows a thing or two about sailboat design, as is evidenced in their Laser Performance Sailboat.
Used in races worldwide, the Laser, as its name suggests, is precision-engineered for optimal racing performance.
It earned Olympic status from the ISF (International Sailing Federation), and it's a distinction that this sailboat deserves.
Everything about the Laser is designed for the serious sailor. And in the final analysis, it's the sailor, not the boat, that makes the difference.

This article is by no means a comprehensive list of all the sailboats that Vanguard designs or all the benefits of each boat. But the three designs listed here give a good overview of Vanguard's quality and their diversity.
Hopefully, it's convinced you to give Vanguard a closer look, whether you're a beginner just starting out, or an expert looking to take it to the next level. Either way, Vanguard has a quality built sailboat just for you.