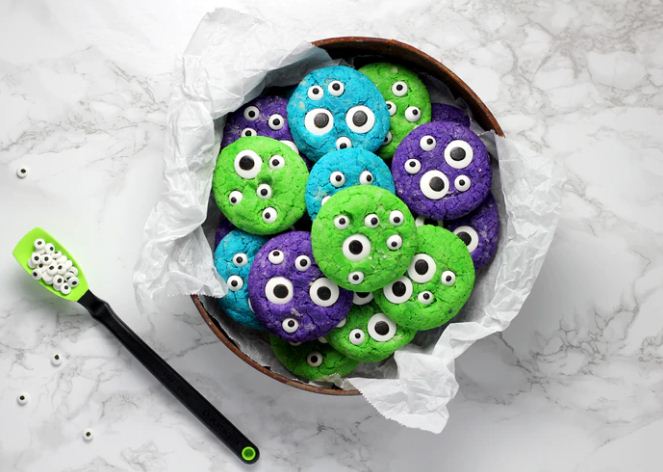 Halloween is a night that children all over the world enjoy for a variety of reasons. One of the reasons is because it is a time when parents repeal their dietary policies.
This means candy and treats galore! However, before you get wrapped or unwrapped up in the contents of your plastic bag brimming with candy, you may want to look into making some extremely tasty Halloween cookies.
Just for your eating pleasure here are a few recipes for Halloween cookies that will thrill young and old alike!
The first recipe is for Graveyard Cookies. Yummy! Just the thought of them makes my mouth water. First, you need to get a package of Oreo cookies.
Take 16 ounces of these cookies and crush them up in a bag. When you have reduced them to smithereens, you need to take about 3.5 cups of cold milk and pour it into a bowl.
Add 1 package of chocolate pudding and one package of vanilla pudding. Whisk the mixture around for a couple of minutes and then add half of your crushed Oreos.
Spoon the spooky mixture into a dish and then sprinkle the remaining Oreos on top. Then refrigerate for about an hour and enjoy it!
There is no symbol that represents Halloween like a carved pumpkin. To pay homage to this spooky symbol, try to create Jack OLantern Cookies.
These cookies are relatively easy to make and will thrill the pickiest of eaters! First, cream about 2/3 of a cup of margarine.
Next, add a cup of granulated sugar and blend it until it becomes a light color. Add the contents of an egg and beat.
When you are done brutalizing the mixture, add 4 teaspoons of milk. In a separate bowl, combine 1 and teaspoons of baking powder and a teaspoon of salt.
Whisk this mixture until it is properly mixed. Next, gradually add 2 cups of flour to the margarine mixture and mix well.
Scoop out this dough and put it on plastic wrap. Cover it with plastic wrap and refrigerate overnight. When daylight comes, turn on your oven to 375 degrees.
Slice the dough in half, keeping one section refrigerated while using the other half to create the Jack OLantern Cookies. Flour a surface and roll half the dough.
Cut cookies to the desired size and put on a buttered baking sheet. Bake for up to eight minutes or until browned. Repeat with the rest of the dough.
Taffy Apple Cookies are a snap to create and they taste great! Cream a pound of butter and add 8 tablespoons of sugar, 2 egg yolks, a teaspoon of vanilla extract, and a delightful pinch of salt.
Add 3 cups of flour and shape the dough into spheres. Preheat your oven to 375 degrees and bake for about 15 minutes.
Let them cool! Melt a bag of delicious caramels in a cup of water. Dip each cookie into the mixture and you are ready to enjoy!
Hope you enjoy the cookies! Remember to be safe when you are cooking and follow the instructions. The worst thing to happen is to get cookies that don't taste good!