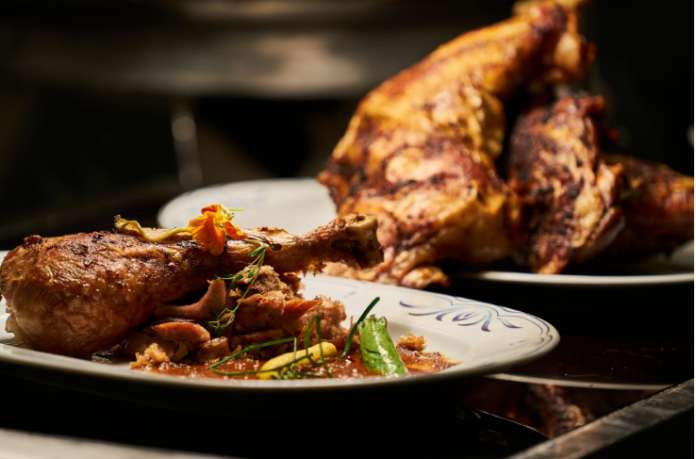 Thanksgiving Day is a time of turkeys and stuffing, pumpkin pies, and buttered Indian corn, it's the time to cook up exciting and delicious holiday meals amidst loads of fun and merrymaking!
Celebrate Thanksgiving Day with family and friends and serve a wide array of yummy and lip-smacking turkey recipes this holiday season!
Here's a useful tip for one common problem people face on Thanksgiving Day.
They wake up in the morning and realize that the turkey hasn't been thawed yet. The normal thawing procedure for a medium-sized turkey takes hours! What do you do?
Don't worry! You cook it frozen!
Yes, you heard it right. You can cook your turkey directly from the frozen state. Not only is this possible, but it has even been recommended and approved safe by the FDA food code and by many turkey hotlines.
Here's how you go about it.
– Start at least 5 hours before you want to serve.
It's better to have the turkey done half an hour before time than to rush in with an undercooked one at the last moment.
Unwrap the bird and put it on a foil-covered rack on a pan or inside a covered roasting pan, whichever you prefer.
– Set the oven to 325 ° Fahrenheit and put the turkey in.
Do not worry about the sack containing the liver, kidneys, etc. They can be removed later, during the cooking as the bird thaws.
Certain microbes like the Salmonella will still be there on the turkey, but since it's frozen and not dripping, only a negligible amount will be transferred to your hands or the counter.
– Using a shallow pan or a rack ensures even cooking of all parts of the turkey.
On the other hand, a pan with deep sides will not allow the underside to be properly cooked.
– During the first couple of hours or so, the legs and thighs will get up to no more than about 100 ° F.
The breast, which is nearly an inch into the flesh, is still at the soft ice point about 25 ° F.
– At this time, start paying attention to breast temperature, preferably with a tip-sensitive digital thermometer, and keep checking it at regular intervals as it thaws.
A dial roast thermometer is also useful. The breast is the slowest cooking part, so that's where you have to pay the most attention.
– After approximately 3 hours, the legs and thighs will heat up to around 150 ° to 160 ° F, and the breast to about 40 ° to 50 ° F. The bag of offal can now be safely removed.
– In five hours' time or a little less, the turkey will be perfectly cooked all over.
The legs and thighs will be soft, juicy, and tender at a temperature of about 175 ° -185 ° F. The breast should be soft, juicy and moist, at around 160 °-170 °F.
Actually, cooking turkey directly from the frozen state is safer and better than traditional methods.
When you thaw out the bird using the time-honored method, you run the risk of two harmful microbes spreading with the dripping and contaminating another foodstuff in your refrigerator or kitchen.
Salmonella and Campylobacter are two dangerous bacteria that are sometimes found in turkeys. However, when the bird is cooked in an above-mentioned way, these bacteria die out before they can become active.
Check out the following delectable turkey recipe to surprise your guests on the auspicious occasion of Thanksgiving Day.
Herbed roasted turkey:
For this turkey delight, you'll need 1 whole turkey weighing around 12-14 lb. First, you've got to remove the giblets and neck from the turkey. You can use a frozen turkey directly or can thaw the turkey before using it.
If you are using a fresh non-frozen bird rinse with cold water thoroughly and pat dry. Then loosen the skin from the turkey breast slightly and put in – cup fresh rosemary sprigs and – cup fresh sage leaves under the loosened skin.
Then smoothen the skin over the herbs and back into place. The place 1 quartered apple, 1 stalk halved celery, and 1 halved onion into the neck cavity. Next place the turkey with its breast side up on a rack in a shallow roasting pan.
Brush the bird all over with – cup melted butter. Then cover the turkey loosely with aluminum foil. Set the baking temperature at 325 degrees till meat thermometer registers a temperature of 180 degrees.
Cooking time ranges between 3 -4 hours. But keep a track throughout baking especially after 3 hours are over. Remove the turkey when completely done and let it stand for around 15 minutes before carving.
This delicious and mouth-watering herb turkey recipe is ready to be devoured and is just ideal to be served at a Thanksgiving dinner party!
.