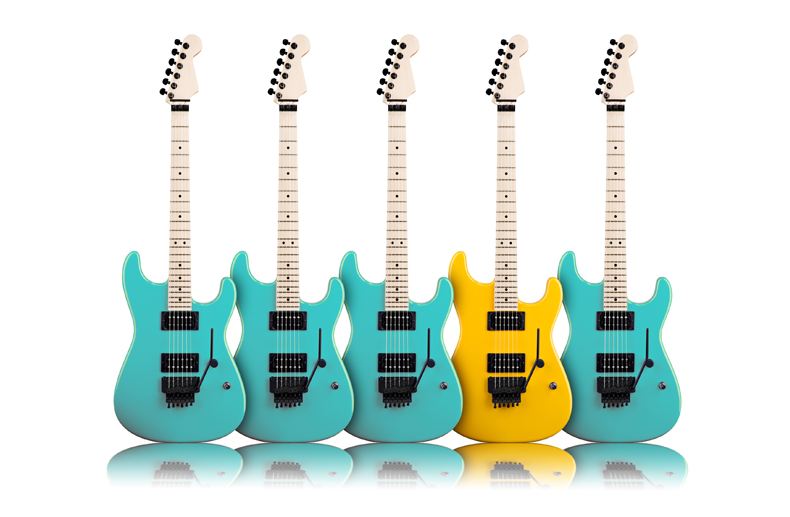 If you are relatively new to the world of electric guitars, you need to do a survey of the field before you commit yourself to this or that model and burn your hard-earned buck.
Before you go and buy something that you may come to regret later, it is better to learn from the experience of others. Otherwise, you may find out you've made a mistake after it's too late for a refund or a replacement.
What is the best electric guitar you can buy for your initial foray into the world of this popular instrument?
Here's a brief description of some of the best models for beginners.
This is by no means a complete guide; you need to do your own testing and research before you actually make the purchase. But this is at least a good beginning.
If you are looking for a good Stratocaster for a reasonable price, then you may consider the Squier Fat Stratocaster, which is modelled after the much more pricey Fender Stratocaster but is well within the average beginner's budget.
The workmanship of this model is not completely standardized across all instruments, and sometimes the quality of the two single-coil pick-ups and the hardware may not be quite first-rate, but those are aspects which can be easily replaced later at little cost.
The Squier Fat gives you a neck of maple, a body of agathis, a bridge with satin-anodized saddles, and a bridge humbucker that gives a peculiar 'fat' quality to the sound that probably accounts for its name. All things considered, the Squier Fat Stratocaster is a fine beginner's instrument.
One beginner's instrument that doesn't have any pretension about its low-cost nature, but yet manages to deliver satisfactory performance is the Danelectro 56-U2, which is almost an exact reproduction of the Danelectro Guitar of 1952.
The U2 deviates from convention in certain small but important ways. First, it has a hollow body, which is unusual in electric guitars.
Secondly, it has pick-ups shaped like lipstick tubes mounted on the hollow. This results in a timbre of sound that can be described as 'hot'.
Its deviant looks and hallmark sound make it the favorite not only of newbies but of some real pro-s, too.
Have you always wanted to get one of those SG guitars from Gibson? Well, now you have something here that looks almost the same, but this time you can actually afford it.
Enter the Epiphone G-310 SG. The pick-ups and the hardware give away the trick, being of distinctly inferior quality. But of course, those are components that can always be improved separately.
The G-310 is a lusty beast that won't be lulled by soft, melodious tunes; it excels at distortions and exaggerated effects. Quite the thing for you if that's the style you're aiming for.
Also from Epiphone is a re-creation of arguably the most well-known guitar in the history of rock and roll, the Les Paul.
Epiphone's Les Paul Special II does a commendable job of simulating the looks of its illustrious prototype, especially in view of its very affordable price.
Well-chosen hardwoods are used for the body, allowing it to be a rugged and cheap product at the same time.
Unlike many other affordable beginner-level guitars, the Yamaha Pacifica 112 does advertise itself as the re-creation of some more famous guitar, and yet quietly manages to hold its own when it comes to tonal quality and make.
The Pacifica 112 is all alder, maple and rosewood, all of the fine choices for guitars, and the popular perception is that the wood is of unexpectedly high quality, considering its price.
The electronics, however, leave something to be desired, but not so much that you will need to consider a component upgrade till you're advanced enough to be well on the way to becoming a serious professional. All in all, the Pacifica 112 gives very good value for a beginner's money.
.