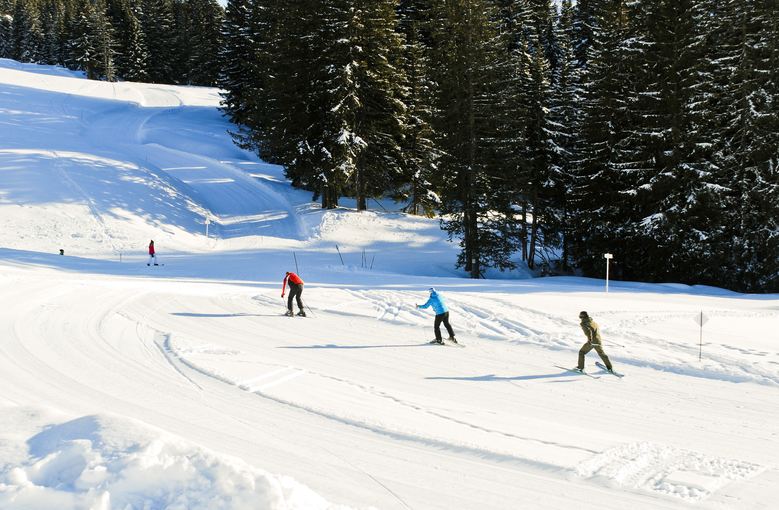 If you don't know how to ski, and you want to learn how you may be surprised to find that it isn't nearly as difficult as you think it is.
In fact, it is very easy, and once you get the hang of it, you will find that skiing comes as naturally to you as walking does.
Most resorts offer private and group ski instruction, at a reasonable cost. Just one hour of group instruction can have you skiing down the beginner, and possibly even the intermediate slopes.
It really is that fast, as long as you are in good physical shape. If you are not in good physical shape, it may take you just a little longer to get going.
Ideally, for beginners, you should consider group lessons, where you are put into a class with several other people.
These classes are generally small, so getting individualized attention won't be an issue. Furthermore, these beginner classes just go over the basics of skiing, and teach you how to get on a chair lift, how to snow plow and stop, and of course, how to go and make simple turns.
The group classes are usually less expensive than the private lessons are, and can last anywhere from one to two hours.
Save the more expensive private lessons for advanced ski lessons, when it will be more beneficial for you to pay that extra expense.
If you are interested in private lessons, as opposed to group lessons, that is also an option. Furthermore, you do not have to use the instructors that are provided by the resort.
In ski resort towns, there are usually private instructors that are not associated with the resort that will come to the resort to give you your lessons.
Beginner ski lessons are usually conducted on the bunny slope, which should not be confused with the beginner slope.
The bunny slope is only slightly slanted and does not have a chair lift. The beginner slope is generally longer, has a bigger slant, and does have a chair lift or a tow rope to take skiers to the top of the slope.
The skiers in the group form a long line, where they can all see and hear the instructor. Everything you will learn during your lesson is taught here on the bunny slope.
Some instructors will then conclude the lesson by having everyone get on the ski lift and ski down the beginner slope.
Other instructors do not do this, because, as a rule, by the end of the lesson you will have the ability to do this yourself, without supervision.
A good ski instructor will make recommendations, after they have checked the individual skills of each person in the group towards the end of the lesson.
For example, if the instructor does not feel that you have achieved the goals of the lesson, he or she will recommend an additional lesson.
If you have achieved the goals, he or she will tell you that you are ready for the slopes, and recommend that you stick to specific trails.
.