New Hampshire State Facts and Brief Information...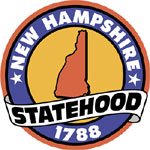 New Hampshire is a state that is located in the northeastern part of the United States. It lies in the New England region of the country and it has been named after the English county of Hampshire. In terms of land area, New Hampshire is considered to be 44th largest state in the country but in terms of population this state ranks 41st in the country.
On the north of the country, New Hampshire is bordered by Quebec, on its east it faces the Atlantic Ocean and Maine, on its west it is bordered by Vermont and on its south it is bordered by Massachusetts.
This state is the first state in the United States with its own state constitution. Manchester is the largest city in New Hampshire and Concord is the capital of the state.
The world recognizes this state for the New Hampshire primary. The Granite State is the nickname of New Hampshire. Some of the recreational activities here are mountaineering, snowmobiling, hiking, skiing, different kinds of winter sports, etc.
Lake Winnipesaukee is the largest lake in New Hampshire and this is followed by the Lake Umbagog. Some times, this state is affected by tropical storms and hurricanes.