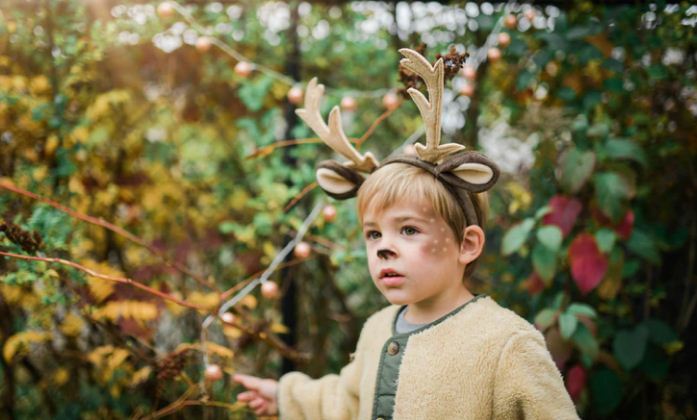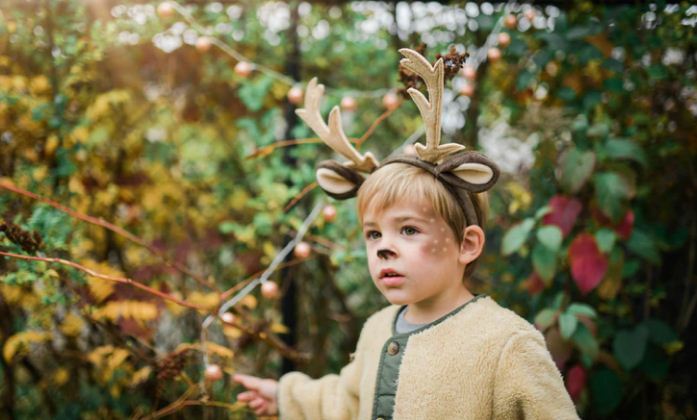 Any parent can tell you that there is nearly nothing as cute as dressing up babies in Halloween costumes.
In fact, consider the irony that a baby is one of the cutest things on Earth somehow dressing the little one up in a Halloween costume makes it ever cuter.
Of course, when you decide on a costume, you should take into consideration that whatever you choose cannot have a mask.
It is potentially dangerous to put anything over a baby's face. However, there are a bunch of different ways you can dress your baby up for Halloween.
One of the easiest Halloween costumes for babies is to dress the baby up like an animal. One idea is to create a nice sheep costume that will have your friends and family saying Awwww until the . . . sheep come home.
Just get a small white hooded sweatshirt and pants. Using double-sided tape line the white clothing.
Take cotton balls and fix them to the taped areas. Get some white or black felt and cut out triangles for ears.
You can either glue or sew them to the top of the hood! For a more authentic sheep look, you can put white socks over your baby's hands!
For a skunk costume that may or may not go with your baby's present diaper condition, use similar materials as with the sheep costume.
However, you should use black sweat clothing instead of white. With this costume, however, you should put double-sided tape down the back of the sweatsuit and line it with cotton balls. Use black felt for the ears and you have a cute little skunk!
If you don't want to get creative with the materials, you can always go elsewhere in search of a baby Halloween costume.
In fact, if you head to popular baby clothes retail outlets up to a month or so before Halloween you will be able to find some cool costumes.
For instance, Babies R Us is a great place to find these costumes. You can also search the web. From a simple web search, it is easy to find a variety of Halloween costumes for babies.
With the latest boom in superhero movies you can even find Halloween costumes of the hottest heroes.
You can find Superman, Batman, Spiderman, Wolverine, and the other X-Men. If you like the Fantastic Four, why not dress the little one up in a Thing costume? Of course, you can always dress your tot up in an Incredible Hulk outfit!
Other ideas include Disney characters like Mickey Mouse, and other cartoon characters! You can even find a Barney the Purple Dinosaur costume if you'd like!
Remember, whatever costume you choose, you should first make sure that it is not at all constricting.
Your child may not be able to breathe properly if the costume is too tight. Even if breathing is not restricted you should ensure that the outfit is comfortable.
If you follow these guidelines it will ensure that your child has a happy and fun Halloween.
.