Utah State Facts and Brief Information...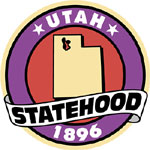 Utah is a state in the United States and it has about 2,736,424 residents. Out of this number, about eighty percent of the people reside along the Wasatch Front. The name Utah has been derived from the Ute Indian language and it simply means 'people of the mountains'.
Utah is a popular tourist destination and it is also a center of mining, government services, information technology and research and transportation.
According to a survey done in the year 2008, this state was considered to be the fastest developing state in the country. There are three geological areas in Utah and they are the Colorado Plateau, the Great Basin and the Rocky Mountains.
On the east of the state there is Colorado, on its west there is Nevada, on its southeast there is New Mexico, on its east and north there is Wyoming, and on its north there is Idaho.
Most of the land in this state is owned by the federal government. The state also experiences thunderstorms sometimes. Most of the people living in Utah reside in the towns and cities.
There are five micropolitan and metropolitan regions in this state. Most of the residents of Utah are of Swedish, Scottish, Irish, Danish, American, German and English origins.