Wyoming State Facts and Brief Information...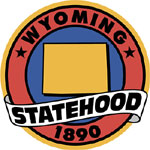 Wyoming is situated in the western part of the United States and in terms of its size, it is considered to be the 10th largest state in the country. It is the least populated state in the country as it only has about 522,830 people. Cheyenne is not just the largest city in the country but it is also the capital city of Wyoming.
About forty-eight percent of the land in this state is owned by the government. This state is considered to be the top producer of coal in United States. There are about 68.7 billion tons of coal reserves in Wyoming. It is also one of the largest producers of natural gas in the country. Cheyenne is the highest populated city in this state.

The unemployment rate in Wyoming is about 3% and the Gross State Product is $27.4 billion. The main sectors of the economy of this state are travel and tourism and mineral extraction industry.
In the year 2002, about 6 million people visited the monuments and national parks in Wyoming. The national parks in the state that are popular among the tourists are the Yellowstone National Park and the Grand Teton National Park.
The climate in this state is basically a semi-arid continental climate.